On the afternoon of September 9, the Korean Consul General in Guangzhou and his delegation visited Wuyi college accompanied by relevant leaders and foreign affairs personnel from Nanping and Wuyishan. Mr. Chen Jinrui, vice president of the University, and Mr. Yao Jinsheng, director of Neo-confucianism Research Center, warmly regarded and discussed with Mr. Hong Xingxu, Consul General of South Korea in Guangzhou.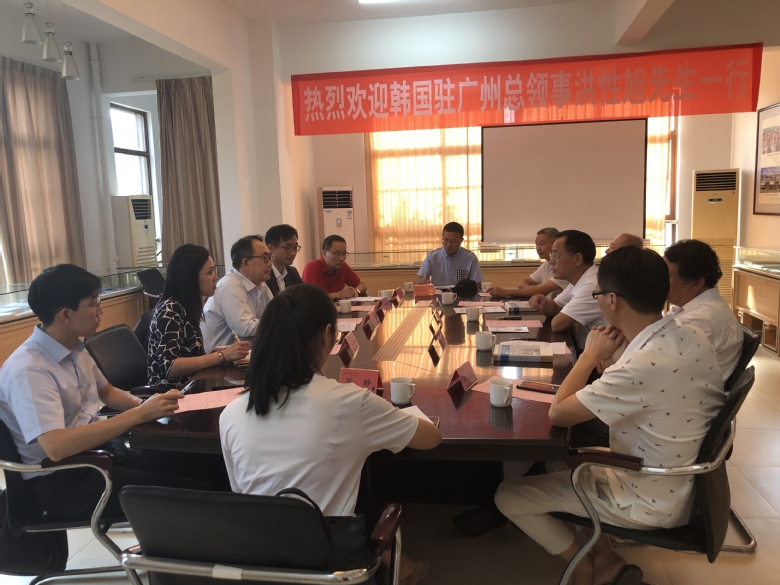 Mr. Wu Jianhua, deputy director of Nanping Municipal government office, first introduced the background and visiting purposes. Vice President Chen Jinrui delivered a welcome speech on behalf of the school and introduced the research of Neo-confucianism in our school. Consul General Hong Xingxu and commercial consul Jin Xiuying made speeches successively, and put forward the tentative plan of having a rest on the conclusion of sister cities and the exchange and cooperation of Neo-confuciunism with Wuyi University. Director Yao Jinsheng and deputy director Zhang Pinduan responded positively to the cooperation intention. Wu Jianhua, deputy director, made a summary speech, and put forward further suggestions and ideas on the research exchange and cooperation between Youcheng and Neo-confucianism.
The Neo-confucianism research center of Wuyi University, as well as the Neo-confucianism research base of the Provincial Academy of Social Sciences and the song and Ming Neo-confucianism research center of the National Academy of Social Sciences, has a group of professional research teams of nearly 20 people, who have carried out research for nearly 20 years, with fruitful results, a lot of interactive exchanges with a number of research institutions, universities and cities in South Korea, and the research carried out by Wuyishan and South Korea in turn every other year Research activities have been held continuously. Wuyi University has a deep and solid foundation of Neo-confucianism studies, which can play an important role in promoting the exchange of Neo-confucianism studies between Nanping, Wuyishan City and South Korea, and Korean citizens to experience Neo-confucianism culture.
Lu Mingtian, director of the Foreign Affairs Office of Wuyi University and relevant staff, and some research backbones of Neo-confucianism research center also participated in the discussion and exchange.